[Sketchnote] Web Storage APIs: How Browsers Store Data
November 29th, 2020
(2-minute read)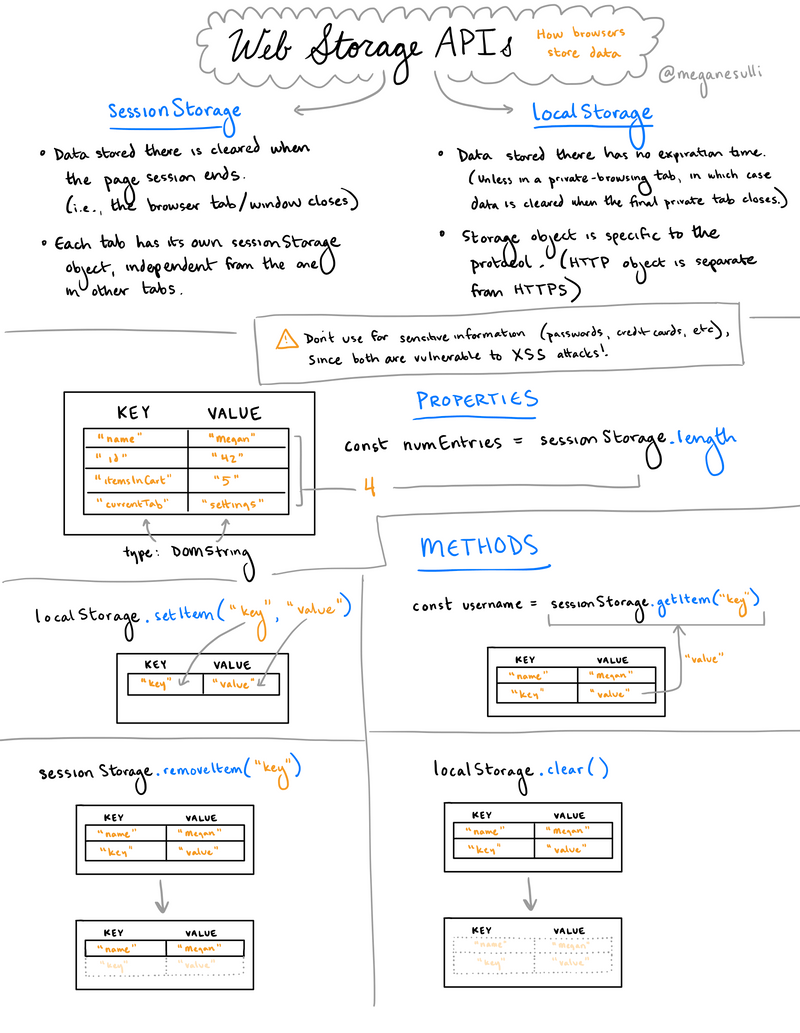 Browsers have two built-in ways to store data: sessionStorage and localStorage.
sessionStorage
Data stored there is cleared when the page session ends (i.e., the browser tab/window closes).
Each tab has its own sessionStorage object, independent from the one in other tabs.
localStorage
Data stored there has no expiration time.

Exception: If you're in a private tab, then localStorage is cleared when the last private tab is closed.

Storage object is specific to the protocol. (HTTP object is separate from HTTPS.)
Common API
sessionStorage and localStorage both implement the Storage interface.
Both objects contain a key-value store, which is where data is kept. The keys and values are both type DOMString.
Properties
.length - The number of entries in the Storage object's key-value store.

javascript

const

 numEntries 

=

 

sessionStorage

.

length
Methods
.setItem(key, value) - Adds the key-value pair to the store.

javascript

localStorage

.

setItem

(

"key"

,

 

"value"

)

.getItem(key) - Retrieves the value for the specified key. (Returns null if the key doesn't exist.)

javascript

const

 username 

=

 

sessionStorage

.

getItem

(

"key"

)

.removeItem(key) - Removes the key-value pair for the specified key. (If the key doesn't exist, nothing happens.)

javascript

sessionStorage

.

removeItem

(

"key"

)

.clear() - Removes all key-value pairs from the store.
Additional Resources
Join the newsletter!
Subscribe to get email updates about new content! (No spam. Unsubscribe at any time.)